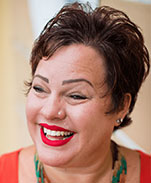 Michelle Couture-Souvenir

, Au.D.

Audiologist, Owner

Michelle Couture-Souvenir, Au.D. is the founder and owner of Hear 4 U (with Hear 4 Kidz) and owner of Hear 4 U Inc., S.A.- Panama. Prior to venturing on her own, she served as a pediatric audiologist and rehabilitative services manager at the Miami Children's Hospital. Dr. Couture-Souvenir graduated with a B.S. from Central Michigan University in 1990, received a M.A. in Audiology from Wayne State University School of Medicine in 1992, a M.S. in Health Care Administration from Barry University in 1996, and a Doctorate in Audiology from Arizona School of Health Sciences in 2002. She is a member of ASHA and AAA, and holds a State of Florida professional license in Audiology.

Besides her many educational achievements, Dr. Couture-Souvenir has a passion for pediatric audiology and a tenacious drive towards humanitarianism. She has promoted an active involvement in two separate international humanitarian projects helping hearing impaired children around the World.